I asked myself "What did I learn?" from the Oct. 9, 2013 first Future of Nuclear Conference. I volunteered my services as a camera operator and wannabe contributor. The conference was better attended than I had expected. Many key players were present. Over 80 mostly nuclear industry people although I did spot a couple of anti-nuclear people I had met before.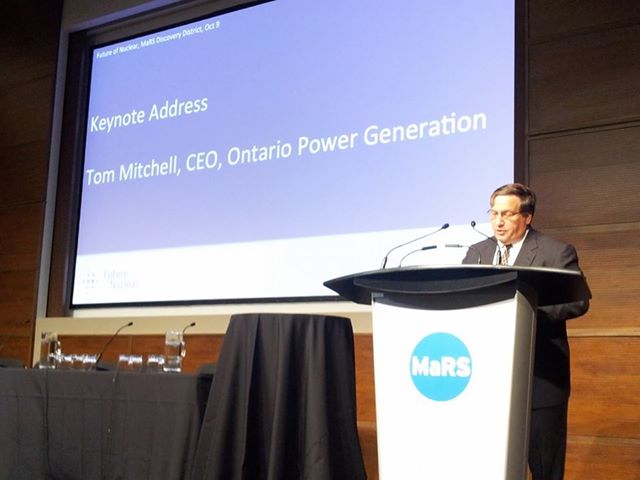 After watching several speakers who delivered their talks without much enthusiasm I found myself wanting to shake things up a little. After all Ontario is the unsung hero of energy systems in the world. Why not shout and boast about our successes of reduced coal, increased nuclear and renewables (however subsidized) and as a result cleaner air and thriving economy? I found myself wanting to remind everyone of the misplaced praise given by the anti-nuclear movement to German initiatives when Ontario is actually proving to be a much more successful model.
The facilities at the MaRS centre are first rate. The microphones, screens, comforts all very pleasant. Henry Vehovec, the conference organizer, did a nice job of scheduling and promoting the event.
I think my biggest wake-up call from the whole event is that everyone present has there own agenda. This was evident from the response to my grassroots concept that I was promoting the "Energy Reality Project." I had a one pager attempting to be as concise as possible outlining what the project was about. I had a few responses but it was the lack of enthusiasm that tipped me off that I was too obviously not a big enough player to be taken seriously. Perhaps their lack of response was the result of conditioning after 30 years from road blocks to nuclear.
After a couple of years of doing conferences I find that the few in Canada that I have attended leaves me thinking we are too insular and lacking in PR and ambition. The two Thorium Energy Alliance conferences I attended in Chicago had far more visible enthusiasm.
Tom Mitchell from OPG gave a slow and low key speech that had an off the cuff delivery. It was hard to tell if he actually was using notes. But, there would be few places he could speak where the audience would have been as attentive and interested in what he had to say. It's not that he doesn't deserve it. He does manage the largest utility company in Canada. OPG runs Pickering and Darlington and owns the Bruce reactors which combined provide 60% of Ontario's electricity and that is in addition to a mix of hydro, gas, coal, biomass and wind.
I walked away from the conference realizing that the nuclear industry in Canada (mostly Ontario) is in desperate need of revitalization. Very much like the house of commons proceedings I see a large group of individuals who appear to be powerless and frustrated at their lack of influence over the few that actually have power. What's worse is that the power is in the hands of those who do not understand the important role that nuclear energy provides.
Little did we know that the following day that the Globe and Mail would drop the news about Kathleen Wynne's Liberals announcement to cancel the two new nuclear builds in Darlington. The possibility of new builds are what had attracted speakers from Westinghouse and Babcock and Wilcox to the conference to make their presentations. The stranglehold on nuclear energy is even worse in the US. David LeBlanc of Terrestrial Energy Inc., during his talk about molten salt reactors and his own IMSR, commented that he has been telling his US counterparts seeking to sell their nuclear concepts to try Canada which has a more reasonable regulator in the CNSC. I had heard this from David before but it somehow had more significance with the presence of CNSC's Director General of Nuclear Power Generation, Greg Rzentkowski.
I hope you were not expecting a detailed report. I can simply say that there will be a video of the numerous talks.
I learned a few things from Tom Mitchell's talk and maybe more from his Q & A.
They (OPG) cannot do any major planning. They are dictated to by the Ministry of Energy. They are more like property managers and utility operators. That was my impression. He spoke about being open to partnerships. I asked him later are they open to partnerships outside Ontario and he said yes.
Here are the people who spoke:
Michael Delage(General Fusion)
David LeBlanc(Terrestrial Energy)
Greg Rzentkowski(CNSC)
Rosemary Yeremian(Strategic Insights)
John Luxat (McMaster Professor)
Krista Hill(Nuclear Law)
Cedric Jobe(Ontario Ministry of Energy)
Ron Lewis(Westinghouse)
Ron Oberth(OCI)
Thomas Snyder (Babcock and Wilcox)
Jim Burpee(Canadian Electrical Association)
Milt Caplan(MZ Consulting)
Paul Dinner(Mindfirst)
Shobhit Shanker (consultant)
Marina Freire-Gormaly (Graduate Student at U of T)
John Spears covered the event – Nuclear industry faces critical decade – OPG Chief
So I'm not giving a play by play but the event was a success and will leave a lasting impression for those who attended. The information and learning are what drives people like myself to attend these conferences and I did learn a lot. However, not everyone there was like me. The walkaway value to those looking for contacts to further their careers were at least given 3 chances including lunch to meet and mingle.
So now that a few days have passed since the event I reflect back to the unexpected Ontario government announcement to cancel new builds in Darlington. I thought about one of the bold comments made during one of the panel discussions. That was something to the effect that if CANDU does not work harder on marketing abroad that it could be fated to go the way of the Avro Arrow and RIM Blackberry. But something else lingered. It was a feeling of belonging to a group that were "not wanted on the voyage." No matter that nuclear energy could well be the one technology that could prevent catastrophic global warming. When it comes to predicting doomsday I'll remember that humans are quite possibly not up to the task of recognizing a solution that stares them right in the face. There are times that I have started to feel too old and somewhat ignored by peers and younger people who can't relate. So in another sense I feel "not wanted on the voyage" of other people too. But I don't give up easy. I expect next years Future of Nuclear Conference to go even better and have high hopes for Toronto becoming an energy hub that will attract international attention.